Almost all adults have used an earpiece at some point in their lives. An earpiece is actually a gadget placed on the ear and is usually used for listening to something. Millions of people normally use an earpiece for different reasons. In this article, we are going to explain in details different uses of an earpiece.
The first very common use of an ear piece is connection to a wireless radio. Wireless radios usually consist of earpiece cable that usually connects the radio to the user. This is very common especially in sports such as cricket where people usually follow the game from the radio. The earpiece is usually plugged either on a single ear or both ears.
Stethoscope is a type of earpiece that is mostly used by medical practitioners. This earpiece is a bit different from the normal ones and it needs to be carefully inserted into the ears so as to provide an excellent acoustic seal as well as make the user comfortable. This type of earpiece usually snaps firmly to the ends of the ear tube and requires special skills in order to safely remove them after use.
An Earpiece is also used as a hearing aid. This type of earpiece is either made from plastic that has been well molded to fit the exact shape of your ear or with a thin plastic dome known as open fitting that is usually fitted inside the ear. This type of earpiece is available in different categories and its suitability usually depends on the user degree of hearing loss. It has a microphone that fits behind the ear as well as an earpiece that perfectly fits on the ear. Custom made earpiece usually differs slightly from the normal earpiece in that it is usually made from a clear plastic known as NHS behind the ear hearing aids.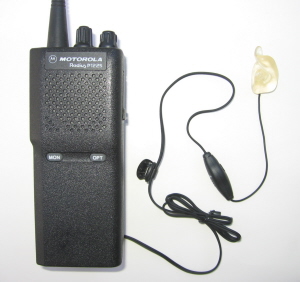 Did you know that an earpiece is usually used on 2 way radio? The radio earpiece is available in variety of styles. Some of the styles include D-ring, clear tube and over the ear. Earpieces for two way radios are usually used on many different radio brands including Kenwood, Motorola, Icom and Binatone. In addition to that, it is also used by bar staff, door supervisors and security staff.
Most people usually wonder how TV presenters communicate with the producers. Typically Presenters use an earpiece to receive instructions or information from the director. They can also receive messages from a device that plays a recorded script. A Presenter earpiece is available in two categories: wireless ear bug or tube earpiece. These types are usually very small and cannot be seen unless you look keenly for them. They are used by all type of presenters either in studio or out in the field as well as those in live broadcast and entertainment field.
Thousands of people use earpieces to listen to music on their phone IPod and mp3 players, They are also used to communicate on the phone. Typically, an earpiece usually fits both ears and the style that is commonly used is white. They are also used by sound engineers, musicians, audiophiles to listen to their own vocals, music, and stage instrumentation during live performance or when recording studio mixing. In most cases, the earpieces are usually customized to provide comfort and noise reduction from the surrounding to the user.
So the big question is, what is the difference between an earphone and an earpiece? The main differences between these two devices are; an earpiece a speaker is near or inside the ear while the earphone is a traducer that converts electric signals to sound and it is usually held near the ear. An earpiece has both its pros and cons. Some of the benefits of the earpiece include being lightweight and portable. It is also small in size and cannot be seen easily. Common disadvantages associated with earpieces include not being able to filter external noise properly and having problems receiving sound from them especially if there is a lot if background noise.